Where you live and who you are determines climate crisis effect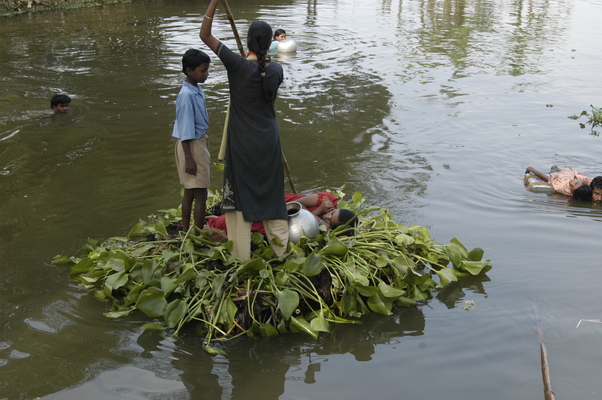 Where you live and who you are determines climate crisis effect
Måndag 19 april 2021 14:30 - 15:30
Utställare: Svenska kyrkan
Föreläsare: Christian Dymén, Francesca de Gasparis , Magnus Ek, Mattias Söderberg , Nathalie Töpperwien Blom
Moderatorer: Amanda Björksell, Margareta Koltai
Workshop facilitators: Anna Enarsson, Maria Löfgren Gernes

We know that people living in areas with poor infrastructure and without early warning systems are more vulnerable compared to people living in more developed communities. In addition to this, factors such as gender, age, disability and ethnicity determine how exposed an individual is to the effects of disasters. Act Church of Sweden hosts a panel discussion on what needs to be done to ensure the right to safe housing and a life in dignity when climate disasters strike.
Suggestion for panel discussion
A conversation to exchange experiences and explore recommendations to address inequalities and promote the right to climate adequate housing.
The following questions will be addressed:
When disasters occur, what are the living conditions contributing to people´s vulnerability?
What role does factors, such as power, influence, class, gender and age play in the events of national hazards e.g. extreme weather?
How can we strengthen Resilience, Climate Change Adaption (CCA) and Disaster Risk Reduction (DRR) to prevent that hazards do not lead to disasters?
To what extent does the Swedish national action plan for climate policy framework enable participation and access to climate financing, including climate adequate housing?
Arrangör(er)
Act Svenska kyrkan
Prioriterade målgrupper (max 3)
Studenter vid högskola/universitet, Civilsamhälle, Förtroendevalda
Föreläsare
Christian Dymén
Föreläsare
Phd, researcher and consultant in gender and social investments at Trivector
Francesca de Gasparis
Föreläsare
Executive director, SAFCEI, South Africa (digital participation).
Magnus Ek
Föreläsare
Member of parliament, representing the political party Centerpartiet.
Mattias Söderberg
Föreläsare
Senior advocacy adviser, DCA/ Co-chair, ACT Alliance's advisory group for climate justice.
Nathalie Töpperwien Blom
Föreläsare
Program manager Haiti/ Agera.
Act Svenska Kyrkan

Amanda är ordförande i globala ACT Alliansens rådgivargrupp för Unga. Hon studerar på ett masterprogram för agronomer på SLU och har ett brinnande engagemang för miljö-, klimat- och rättvisefrågor.
Margareta Koltai
Moderator
Margareta är rådgivare på Act Svenska kyrkan för klimaträttvisa och rättvis hållbar försörjning. Med 30 års erfarenhet av utvecklingssamarbeten i nära samverkan med lokala organisationer som arbetar för mänskliga rättigheter, jämställdhet, fred och demokrati.
Anna Enarsson
Workshop facilitator
Maria Löfgren Gernes
Workshop facilitator