The time to accelerate the momentum of the green transition is now. The theme of COP27, the annual UN Climate Change Conference is Together for Implementation. And Sweden will use the global stage and platform of COP27 this November to continue driving the agenda of change and implementation of solutions that meet both the climate challenge and deliver competitive and sustainable growth.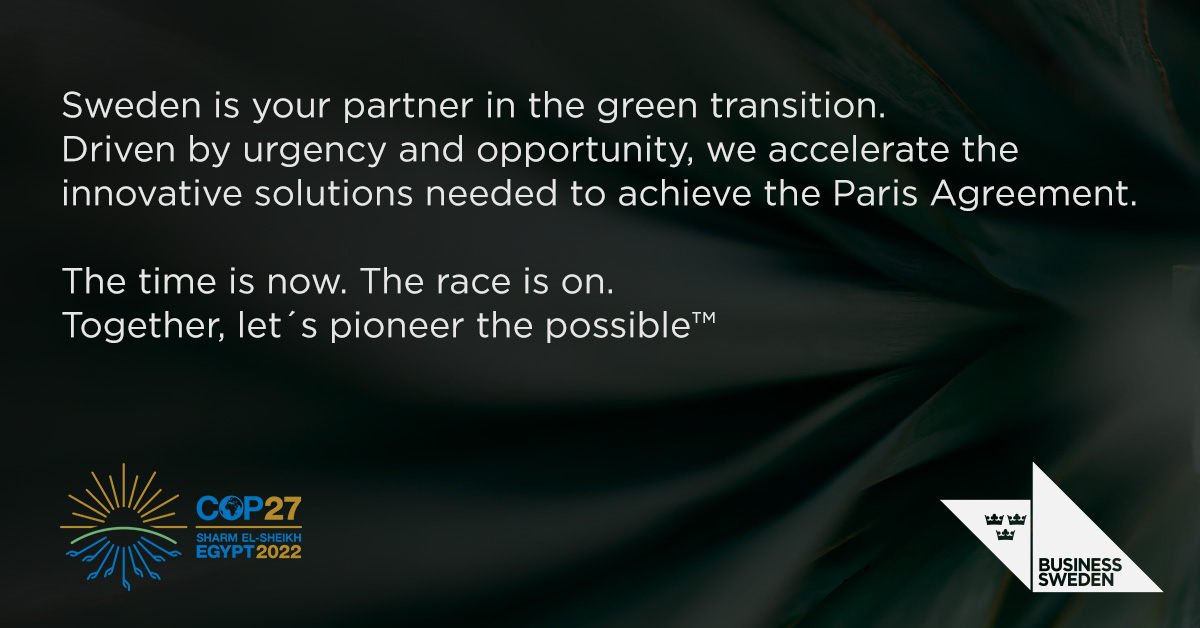 Team Sweden will be present with a delegation representing the public and private sectors with the ambition to:
Showcase how Sweden is leading a united approach to develop and utilise cutting-edge technology and sustainable solutions
Share deep industry knowledge and learn from global colleagues and partners, and
Seek collaborations that will accelerate global competitiveness and meet the goals of the Paris Agreement
Be part of making the green transition the greatest co-lab in human history.
Find out more about our official partners
Explore Sweden's COP27 programme
Register to be a digital guest at COP27
Why COP27?
The annual United Nations Climate Change Conference is a critical platform to advance the agenda for global climate action. Over 11 days, global decision makers, business and industry leaders, climate experts, and civil society will come together to negotiate and agree actions for meeting the targets of the Paris Agreement.
Why is Sweden attending COP27?
Sweden is a leading innovation nation and a pioneer in sustainability with technologies and policies in place to support the agenda of halving global emissions by 2030 and accelerating climate solutions exponentially.
COP27 provides Sweden with the opporutnity to position Swedish sustainability solutions globally and Sweden as a front-runner in the green transition, leading the world to become the world's first fossil fuel-free welfare nation.
Business Sweden will use COP27 to showcase best practice examples from both the public and private sectors, particularly in the areas of policy, finance, and innovations.
We will also promote Sweden as a pioneer in the green transition and position Sweden and Swedish solutions as critical for both export and invest opportunities; to accelerate exports of Swedish solutions globally and attract sustainable investments to Sweden
Our COP27 programme will build on Sweden's invitation to leading global actors from all sectors and stakeholder groups to co-create with us to meet global sustainability targets and improve life for the next generation.