55. Political violence and shrinking civic space in the Eastern Partnership region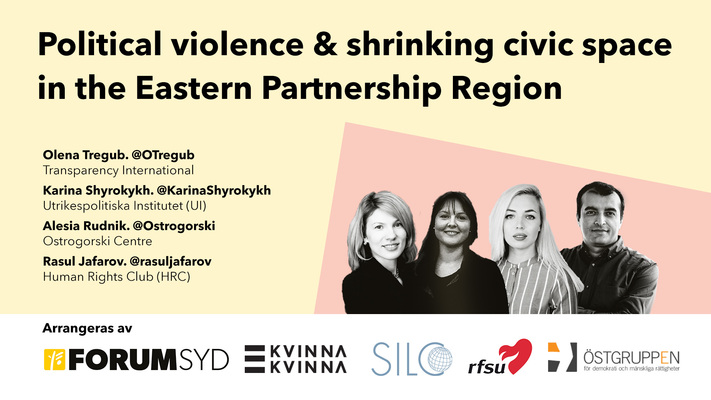 Political violence has become an increasing phenomenon in relation to the global trend of shrinking civic space, something which is increasingly relevant and problematic in the Eastern Partnership region (Azerbaijan, Armenia, Georgia, Moldova, Ukraine and Belarus). This seminar will bring forward four voices from the region highlighting different challenges that the civil society and human rights activists are facing but also focus on examples and success stories of how to work against political violence and the obstacles for civil society movements. The panelists will share experiences and reflections from the challenges and situations in Azerbaijan, Belarus and Ukraine where the work and struggle for human rights, anti-corruption and LGBTQ movements are under constant pressure, threat and vulnerability. The discussions will touch on the background to the current situation as well as perceptions on the future development within the context and how it affect human rights and the civil society in the region in general bit within Azerbaijan, Belarus and Ukraine in specific.
Part of the seminar will be dedicated to questions from the audience to the panel so be prepared for a really interesting, relevant and though-provoking discussion.
Arrangör(er)
Swedish Civil Society Network for EaP & Russia, SILC, RFSU, Kvinna till Kvinna & Östgruppen
Taggar
Demokrati
Europeiska Unionen
Mänskliga rättigheter
Politiskt våld
Statligt våld
Prioriterade målgrupper
Civilsamhälle
Tjänstepersoner vid statliga myndigheter/departement
Media
Föreläsare
Martin Uggla
Moderator
Martin Uggla is the chairman of Östgruppen, a Swedish human rights organization focused on Eastern Europe. He has been working actively on issues related to democracy and human rights in the region since the early 1990s, and especially monitored the developments in Russia and Belarus. Martin has published several reports and papers on the human rights situation in Eastern Europe, including topics such as conditions and prerequisites for the civil society. In 2014 he launched the book "Dictators' Guide - a story about Belarus and Europe's first modern dictator"
Åsa Wiklund
Workshop facilitator
Kvinna till Kvinna
Alesia Rudnik is an analyst and journalist at the Ostrogorski Centre and is mainly writing about political and social issues in Belarus for Belarus Digest. She obtained a BA in Political and Social Sciences at the European Humanities University and MA at Stockholms University. Alesia has an experience of work in non-governmental organisations in Belarus and Sweden, as well as an international election observation experience in five countries. Her practical and academic interests are civil societies, elections and democratization in Eastern Europe.
Karina Shyrokykh is Associated Researcher at the Swedish Institute of International Affairs. She holds PhD in social sciences from Ludwig-Maximilian University Munich, Germany. Her dissertation was devoted to European Union's policy of human rights promotion in the post-Soviet countries. Her research articles are published in leading political science and Europeanization journals. She is also a spokesperson for the non-profit organization Young Ukrainians in Sweden (YUS). YUS was established in 2013 in the midst of violence against protesters on the Maidan square in Ukraine.
Transparency International

Olena Tregub is the Secretary General of the Independent Defence Anti-Corruption Committee (NAKO), an international civic body created by Transparency International. NAKO is engaged in the reform of the Ukrainian MoD and state-owned defence industry and aims to bring more accountability and transparency to Ukraine's defense and security sector. From 2015 to 2017, Olena Tregub led the national authority for international development assistance coordination as the director at Ukraine's Ministry of Economic Development and Trade.
Earlier, Olena Tregub worked in journalism, education and international development. Olena has worked in the UN Headquarters in New York, taught International Relations in American universities and cooperated with The New York Times and KyivPost. In 2008, Ms. Tregub co-founded the consulting company Global Education Leadership in the U.S., which implemented programs of professional development and studying abroad for young North Americans in Poland, Ukraine and Costa Rica, as well as offered educational consulting and leadership training.
Ms. Tregub is currently a Millennium Fellow at the Atlantic Council, the leading US think tank in international affairs. She is also a part of the World Economic Forum's Global Shapers network.

Rasul Jafarov is Chairman of the Human Rights Club (HRC), a Baku-based non-governmental organization focusing on promotion and protection of fundamental political and civic freedoms, as well as democratic development. Due to difficulties for the operation of independent NGOs in Azerbaijan, he is currently continuing his activities on an individual basis. He is delivering existing problems in the field of human rights to the local and international community via various campaigns. Sing for Democracy, Online Expression Initiative, Art for Democracy, the Working Group on Unified List of Political Prisoners are among of these activities.

Rasul Jafarov was arrested on politically motivated and thus fabricated charges on August 2nd, 2014 for his above-mentioned activities and criticism towards the government. All charges brought against him were connected to activities of the HRC between 2010-2014. Amnesty International has recognized Jafarov as "prisoner of conscience". On 17 March 2016, European Court of Human Rights has issued a Judgment recognizing violation of Jafarov's right to liberty (Article 5 of the European Convention) and prohibition of abuse of rights by the state (Article 18 of the Convention), thus indicating that detention was illegal and politically motivated. On the same day Jafarov was released.