90. Genocide of Rohingya and Oppression of Minorities in Myanmar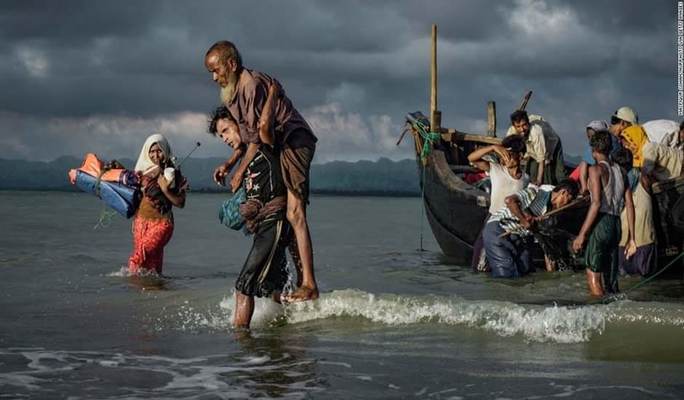 90. Genocide of Rohingya and Oppression of Minorities in Myanmar
Har passerat
Fredag 16 november 2018 16:00 - 17:30 C7
Key-note speaker: Dr. Hla Kyaw
Föreläsare: Miss. Kristina Jelmin
Talare: Dr. Ambia Parveen, Dr. Imam Abdul Malik Mujahid, Mr. Dil Mohammad
Workshop facilitator: Mr. Abul Kalam
Paneldeltagare: Mohammad Rafique, Mr. Yasri Khan
Kommentator: Miss. Arafah

Myanmar's horrific and savage destruction of Rohingya is described by the Independent International Fact-Finding Mission on Myanmar established by United Nation Human Rights Council as a genocidal act committed by Myanmar Armed Forces.
The Myanmar military's brutal and horrific actions against the Kachin and Shan peoples, are Acts of War Crimes and Acts of Crimes Against Humanity.
Myanmar has thus undoubtedly committed genocide against the Rohingya people.
And the International community has so far failed to stop these crimes of all crimes, Genocide against Rohingya.
About 750 000 Rohingyas - children, women and men - fled their home country to Bangladesh 25 Aug until Dec 2017, now captured in refugee camps. It seems to be no return since their own original houses and land in the Rakhine state is leveled by machines, in part to cover mass graves, and sold out for business purposes, even to foreign owners.
To shed more light on Myanmar's genocide of Rohingya, and on atrocities against other minority folks - like Kachin, Karen and Shan peoples - The Swedish Rohingya Association is, in cooperation with The European Rohingya Council, organizing this seminar.
Arrangör(er)
The Swedish Rohingya Association & The European Rohingya Council
Taggar
Brott mot mänskligheten
Folkmord
Krigsförbrytelser
Sexualiserat våld
Statligt våld
Prioriterade målgrupper
Civilsamhälle
Tjänstepersoner vid statliga myndigheter/departement
Media
Föreläsare
Dr. Hla Kyaw
Key-note speaker
Pre- planned Expulsion of Rohingya from their ancestral land by Dr. Hla Kyaw. Hla Kyaw is a Rohingya medical doctor and Chair of The European Rohingya Council, Co-Ordinator of Free Rohingya Coalition (FRC) and lives in Natherlands.
Miss. Kristina Jelmin
Föreläsare
The role of the international community in responding to grave human rights violations and abuses in Myanma, by Miss.Kristina Jelmin, Executive Director of the Swedish Burma Committee.
Dr. Ambia Parveen
Talare
The Myanmar Tatmadaw used sexual violence and rape as a tool of genocide by Dr. Ambia Parveen, she is a Rohingya Pediatric Consultant and has been actively working for the rights of Rohingya people. She is currently vice-chairwoman of The European Rohingya Council and lives in Germany.
Dr. Imam Abdul Malik Mujahid
Talare
The role of EU member States to stop on-going genocide against Rohingya and International Crimes against other minorities by Dr. Abdul Malik Mujahid. Malik is an award-winning author and producer. He chairs Burma Task Force USA to stop the genocide of Rohingyas in Burma. As the national coordinator of the Bosnia Task Force USA, in coalition with the National Organization of Women he successfully led efforts to declare rape as a war crime in the international law. He has authored more than 400 articles on Islamic living and public policy. His book on political sociology was the winner of an Outstanding Academic Book of the Year Award by American Library Association in 1990. Imam Mujahid is chair emeritus of the Parliament of the World's Religions. Mam Mujahid is active with American think tanks in the US. He served as a member of the Chicago Council on Foreign Relations' Task Force on The Civic and Political Integration of Muslim Americans, in 2007. He also has served on the Independent Task Force on Civil Liberties and National Security by the Council on Foreign Relations in New York from 2006-2009.
Mr. Dil Mohammad
Talare
The update of the suffering of Rohingya in the camp, location of camp and what they think about repatriation by Mr. Dil Mohammad, a rohingya refugee lives in No Man's land and community leader of Rohingya refugee camp on border area between Bangladesh and Myanmar. He will give his speech by Skype.
Mr. Abul Kalam
Workshop facilitator
Abul Kalam, Chairman of The Swedish Rohingya Association/SRA and Board Member of The European Rohingya Council/ERC.
Mohammad Rafique
Paneldeltagare
Psychological traumas hunting Rohingya rape victims and how can we support them by
Mr. Mohammad Rafique, a Rohingya blogger"  The Stateless", member of Burma Action Ireland, chairman of Rohingya community in Ireland and a winner of Irish Volunteer  prize year 2018.
Mr. Yasri Khan
Paneldeltagare
Mr. Yasri Khan,
The genocidal suffering in Myanmar 🇲🇲 and the impact in our life in Sweden 🇸🇪 by Mr. Yasri Khan. Khan is a Swedish politician and the leader of organization Swedish Muslims for Peace and Justice. Khan was a member of the Swedish Green Party. Khan was invited to participate in the United State's International Visitor Leadership Program in 2011.
Miss. Arafah
Kommentator
Rohingya youths need a sustainable development program for education, by Arafah. she is a secondary school student with main subject economics program and with focus on law in Alléskolan (Alle school) Örebro. She was born in Malaysia and resettled in Sweden with her parents in year 2008 as refugee resettlement program by UNHCR.