Rapal Oy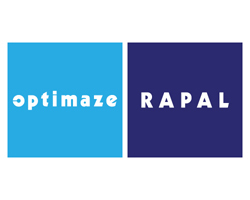 Presentation
Optimaze Workplace Solutions, by Rapal
We help organizations increase employee satisfaction while lowering real estate costs.
Optimize your work environment
A functioning work environment is a competitive factor that increases productivity and the wellbeing of employees. For over twenty years, we have been developing solutions for creating better workplaces. Our aim is to help organizations as well as the entities that design workplaces to make smarter decisions and as a result invest in people rather than just walls.
Our workplace development methods are based on decades of expertise in transforming work environments towards more flexible solutions such as activity based working. Benefits of offering flexible work arrangements are:
the ability to recruit the best talent from anywhere, regardless of location
increase organizational performance
reduce the number of sick days and absenteeism
lower turnover of high value employees
Tools and services for your workspaces
Our workplace solutions include:
- Optimaze Worksense: IoT-based occupancy sensors
- Optimaze Measure: Space utilization studies
- Workplace analysis
- Light space management
https://www.rapal.com
Read our benchmark study:
https://www.rapal.com/owr-materials