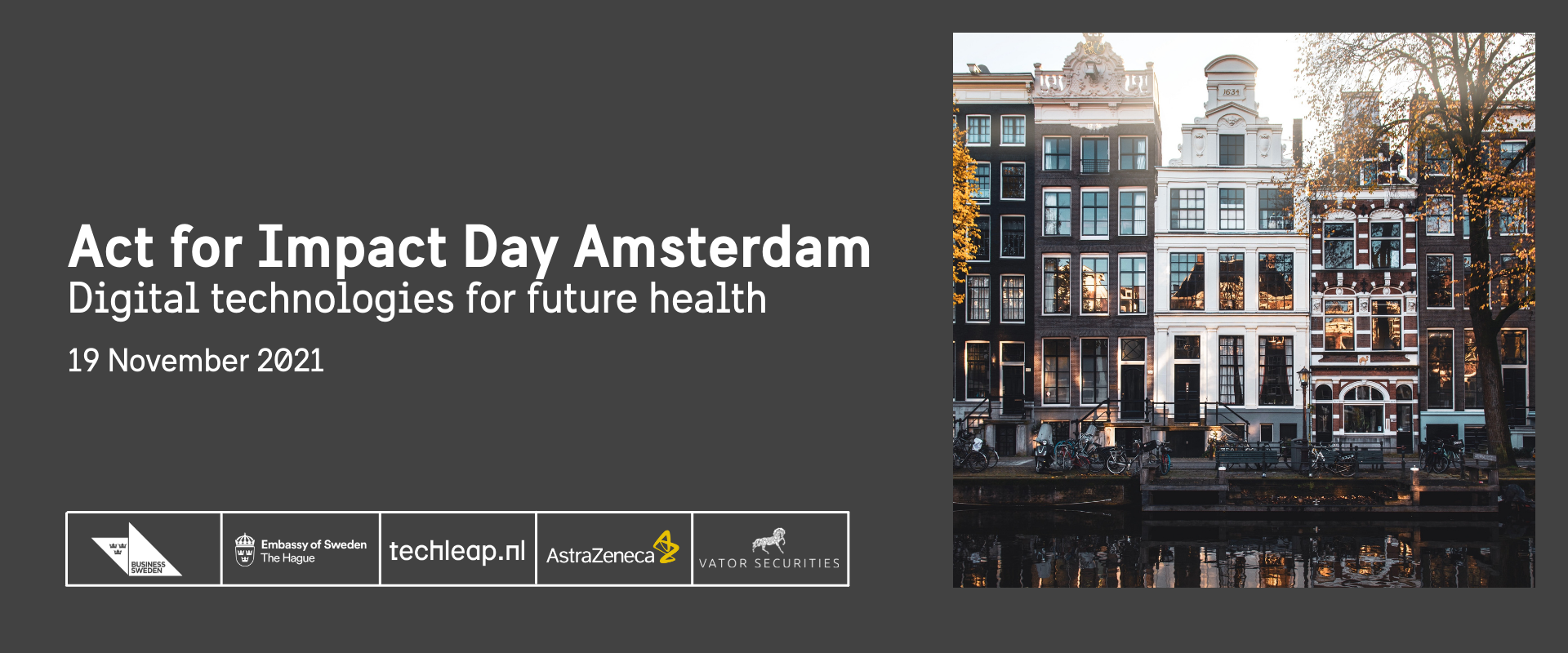 Thank you for joining us!
Click below to view the recording of the event:
---
Innovative ideas and start-ups need investment and structured support to thrive and make a tangible impact. The Act for Impact Day Amsterdam aims to connect the dots between innovative solutions, healthcare, and the global market.
Sweden and the Netherlands are European hotbeds of innovation and connectivity. With digital-savvy populations and cultures that foster the growth of new startups and competition, it's no wonder that there has been a hive of activity in the healthtech sector lately.
"INVESTORS ARE NOW POURING INTO THE DIGITAL HEALTH SECTOR. I THINK THEY'VE REALISED THAT SWEDEN IS A RELIABLE AND ATTRACTIVE TEST MARKET FOR HEALTHTECH CONCEPTS THAT HAVE REAL GLOBAL POTENTIAL."

PAUL BEATUS, FOUNDER OF H2 HEALTH HUB
The artificial kidney, the respirator, the implantable pacemaker and the gamma knife – Sweden boasts some of the most important healthcare inventions of the 20th century. Today startups are fundamentally changing healthcare, and Kry joins the list of unicorns from Stockholm – which produces the most unicorns per capita after Silicon Valley.
The Netherlands is also seeing a booming healthtech ecosystem, and with many startups and major investments still has a lot of unlocked potential. Strong involvement of universities boosts research and innovation, and a supportive culture helps these startups to scale.
But both countries face similar challenges in developing eHealth solutions, including development of a product or service, commercializing an offering, scaling a solution, building strong teams, and raising capital.
"COVID-19 HAS SHOWN US THE VULNERABILITIES OF HEALTHCARE SYSTEMS, AS WELL AS THE MASSIVE POTENTIAL OF INNOVATION.

HOWEVER, INNOVATIONS MAY ALSO BE DISRUPTIVE. THEY CAN LEAD TO SUPPLY CHAIN AND SYSTEM INEFFICIENCIES IF THEY ARE NOT WELL EMBEDDED. THEY ARE LIKELY TO CHALLENGE LEGACY SYSTEMS, RELATIONS, PROCESSES AND INSTITUTIONS."

CONSTANTIJN VAN ORANJE, SPECIAL ENVOY FOR THE ECOSYSTEM HUB TECHLEAP
An exclusive event for Swedish and Dutch INNOVATORS
| | | |
| --- | --- | --- |
| | | |
| Pitch your solution | Meet with partners | Grow your network |
The Act for Impact Day Amsterdam exists to connect healthtech companies with support networks, trusted advisors, experienced investors, potential customers, and sector peers.
This conference will bring together the Swedish and Dutch eHealth sectors to learn about the latest healthcare trends and developments, hear pitches from Europe's most innovative healthtech companies, meet with potential investors, and grow your network in the heart of Amsterdam.
Registration closes Thursday 18 November at 18.00 CET.
Registration closed
The event has passed.